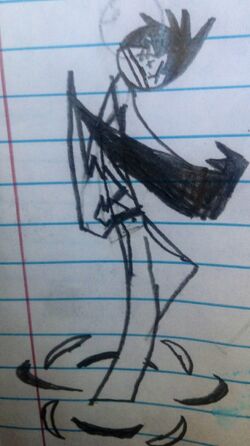 David Clawer is the Human incarnation of Clawer. It's unknown what happen to him after Fiona use the Giant Mega Ralph gave her to destroy all Invaded Cults, minus Trace Sky(Who was destroy by Bruce BlazeStar) and Stancer. Was revived to a human, He lost his memory and during Lawler-RPG, David became a good guy and still retains his dark & light power.
Lawler-RPG
Edit
David began as an unhappy and lonely adult, with his last name and power leading people to entrust him in the New Hectare City. Until he befriended Takashi. Since then, he has become a more confident person and is the reason why King Boom Boo was destroy. He mostly used to get the Humvee M1025 back and for and to protect Shizuka Marikawa since she carrying Andrew Stardrop after Danny's death.
Ratelateship
Edit
Previous Incarnation of Clawer
Biological Related of any Invaded Cults.
Previous Killer of Roxie's Mother, Unknown about it
Biological Nephew of Joseph D. Francis and his wife.
Team up with Venis and many heroes
Defeated King Boom Boo in Chapter 30 in Amy's Route
Serve and protect Shizuka Marikawa & Andrew Jr.
Fell in love with Shizuka Marikawa
Save CR-S01 from Yoshikage Kira
Ad blocker interference detected!
Wikia is a free-to-use site that makes money from advertising. We have a modified experience for viewers using ad blockers

Wikia is not accessible if you've made further modifications. Remove the custom ad blocker rule(s) and the page will load as expected.